Hi girls! Sorry for being so MIA. All the boys in the house are sick. Ryan has an ear infection, Jack has a cough and my brother and Brannan have a nasty cold :( Hopefully I won't be joining them. I'm looking for my camera cord and then will be uploading pictures from Disneyland. Brannan asked me to marry him while we were there so we are busy planning our wedding. And by we I mean me and he just nods along "yeah, that sounds good" :)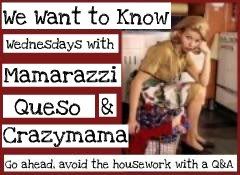 1. do you have any musical talents?
I played the flute for 2 years in elementary school. I wasn't very good though.
2. what role, if any, does music play in your life?
Hmmm...a big one for me. We love to listen to music and sing along. My parents are more musical people. They'll have parties and people bring their instruments and they all play together....dead serious. Growing up my mom had this big orange music book and she would sing to us at bed time instead of reading books. It was fun b/c she would sing us the tickle song ( One Song from Snow White and the seven dwatfs)
3. what is your all time favorite song?
Just one? Probably "you are my sunshine" My mom and I used to sing it together and now Jack and I sing it.
4. do you sing in the shower?
Not any more, I used to move my boom box into the bathroom and have a full blown concert, now I'm just in and out.
5. has a song ever made you cry?
All the freaking time! Go get some tissue before you watch. I'm dead serious.
Don't forget to link up!